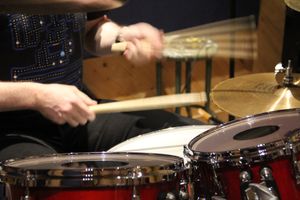 About Tim:

Tim is a well-respected (and in high demand), drummer-percussionist who is equally at home on the stage or in the studio. As a result of his instrumental abilities and songwriting skills, he has received international exposure in Canada and the United States, as well as Europe, Asia, Australia. He has worked with many musician-producers such as Terry Brown (Rush, Blue Rodeo, Klaatu), John Dooher (Ren & Stimpy, Alan Parsons, The Daily Adventures of Mixerman), Daniel Ledwell (Gabrielle Papillon, The Weakerthans), Gaetan Pilon (Studio Victor), Gilles Castilloux (The Treatment Room), Paul Johnston (JUNO Award winning engineer) Roxanne Potvin (JUNO nominee, Sue Foley, John Hiatt, Colin Linden, Bruce Cockburn), Adam Percy (Acid Test, Econoline Crush, Bif Naked), John Greenberg (Velveteen, Lori Yates, Eric Ratz, Geoff Kulawick), and as a result, he has performed and recorded with many Canadian, American, UK, and Swiss artists.

He is also a producer, composer, engineer, mixer, musician, and arranger, with songwriting and performance credits in Hollywood cinema, off-off-Broadway plays, Canadian theatre, Canadian national television, USA commercial television placements, worldwide cable/satellite television, worldwide radio, live performances, and he has been featured in music videos on Much Music and Bravo (Canada). He can be heard on recordings that have won awards and/or have been nominated for awards, such as the Félix and the ECMAs.  

Tim endorses Remo, Yamaha, Regal Tip, and Paiste. 

Tim is a member of SOCAN, BMI, CARAS, FACTOR, and CIRAA.